Sådan heler en diskusprolaps
I dette videoklip forklarer jeg hvordan en diskusprolaps opstår, hvordan den heler, og hvilke behandlingsmuligheder der findes. Diskusprolapsen vil starte en række betændelses-reaktioner i kroppen, som først nedbryder og fjerner det materiale som trykker på nerven. Hos langt de fleste patienter, vil der indtræde en spontan bedring indenfor 12-16 uger efter bensymptomerne er startet. Som udgangspunkt vil man undersøge om patientens smerter kan lindres og fjernes med de såkaldte McKenzie behandlingsprincipper.
DISKUS – RYGSØJLENS STØDDÆMPER
Imellem knoglerne i rygsøjlen, sidder de såkaldte diskus-skiver, også kaldet bruskskiver. Skiverne er lavet af en ydre ring, som består af sej brusk, lidt ligesom den slags brusk vi har i den inderste del af vores øreflip. Inden i denne ring af brusk, findes en væskeholdig gelemasse, som er kernen i diskus.
Fordelen ved denne konstruktion er at knoglerne i rygsøjlen kan bevæge sig i forhold til hinanden, samtidigt med at den bløde midte i brusk-skiverne fungerer som støddæmpere imellem knoglerne. Brusk-skivernes opbygning og funktion som støddæmper, anvendes også i sålen på nogle former for sports- og fritidssko.
Med alderen udtørrer den væskeholdige gelemasse, og strukturen i den ydre bruskring forandres. Som resultat af disse forandringer, kan der opstå revner i den ydre bruskring. Disse revner er ikke nødvendigvis smertefulde, og kroppen er i et vist omfang i stand til at reparere revnerne. Mængden og størrelsen af disse revner og sprækker er i høj grad genetisk betingede, og i dag regner man sprækkerne for at være en naturlig del af rygsøjlens aldringsproces.
HVORDAN OPSTÅR EN DISKUSPROLAPS?
Symptomerne fra en diskusprolaps opstår når bristninger i bruskringens fibre tillader, at det centrale gele-materiale presses ud i rygmarvskanalen, hvor det kan irritere de nervefibre der indgår i iskiasnerven. Det er meget vanskeligt at fremprovokere en diskusprolaps ved fysisk overbelastning, og det kræver at bruskskiven først har gennemgået de aldersforandringer der er oftest ses efter 35-40-års alderen.
Senere i livet, når man kommer op i 60-70-års alderen, vil gele-materialet inden i bruskskiven være udtørret, og så vil det være vanskeligt at skabe en diskusprolaps. Sammenfattende er diskusprolaps som regel en lidelse man vil se hos den midaldrende del af befolkningen.
DEN NATURLIGE HELINGSPROCES
Når der opstår en diskusprolaps med tryk på iskias-nervens fibre, vil patienten have smerter i sit ben. Der er ikke nødvendigvis smerter i selve ryggen. Udover smerter i benet, kan der også være ændret følesans på huden, og musklerne i benet kan være svækkede. Når man bliver undersøgt af en læge eller en fysioterapeut, kan man sommetider finde at reflekserne i benet er svækkede.
Diskusprolapsen vil starte en række betændelses-reaktioner i kroppen, som først nedbryder og fjerner det materiale som trykker på nerven. Derefter vil der dannes arvæv, som heler det skadede område. Erfaringsvis er de første 4-8 uger, de mest smertefulde for patienten. Det skyldes muligvis den betændelses-reaktion, som gør nerven mere følsom.
Hos langt de fleste patienter, vil der indtræde en spontan bedring indenfor 12-16 uger efter bensymptomerne er startet. Som det fremgår, er der tale om en relativt langvarig helingsproces. Til sammenligning vil skader på hud eller muskler hele væsentligt hurtigere. Forskellen på hud, muskler og diskus er, at blodforsyningen er væsentligt ringere i en diskus. Eftersom det er blodbanen der skal transportere affald fra og byggematerialer til det skadede område, er helingsprocessen inden i ryggen relativt langsom.
ET GODARTET PROBLEM
Det naturlige forløb for patientens tilstand efter diskusprolaps er fundet relativt godartet. Dette dokumenteres af indtil flere case-rapporter samt af langtids-opfølgning på større patientgrupper. Man har ovenikøbet fundet at jo større prolapser er på MR-scanning, desto større grad af naturlig bedring observeres over tid.
Erfaringsvis er de første 4-8 uger efter bensmerternes debut, de mest smertefulde for patienten. Det skyldes muligvis den betændelsesproces, som gør nerveroden mere følsom overfor mekanisk påvirkning. Baseret på klinisk erfaring, kan smerterne variere en hel del i intensitet i disse første måneder.
Det er helt normalt at patienten får et eller flere tilbagefald, undervejs i et helingsforløb. Tilbagefald med midlertidig forværring af smerterne varer oftest kun fra få dage og op til en uges tid.
Umiddelbart i forbindelse med diskusprolapsens opståen, iværksættes en reaktion, som har til formål at rydde op i området. Oprydningsprocessen medfører smerter på baggrund af kemisk irritation af nerverødderne. Herefter begynder der en opbygningsfase, hvor der gradvist sker en genopbygning af det ødelagte væv. Diskus' evne til at hele er begrænset, og omfattende skader i annulus vil ikke kunne hele fuldstændigt. Der er dog enighed om at de yderste lag af annulus fibrosus er i stand til at gendannes. Efter der er lagt nyt arvæv ned, vil der være en modningsfase, hvor arvævet skal opnå optimal organisering og styrke. Det kan ske gennem mekanisk stimulering med stræk på arvævet.
BEHANDLINGSMULIGHEDER – FYSIOTERAPI
Idag ved vi meget mere om behandling af diskusprolaps, end man gjorde for 15-20 år siden. Derfor er det også kun 10-25% af dem der får en diskusprolaps i lænden, som ender med at blive opereret. For de fleste patienter består behandling af grundig undersøgelse, vejledning og information, smertelindring, øvelser og træning, samt gradvist tilbagevenden til de normale dagligdags aktiviteter og arbejde. Disse behandlingsprincipper tager udgangspunkt i at hjælpe den naturlige helingsproces, som er beskrevet kortfattet ovenfor.
Fysioterapeuten vil først og fremmest undersøge patienten grundigt, for at kunne tilrettelægge et individuelt behandlingsforløb. Alle mennesker og alle diskusprolapser kan ikke behandles helt ens.
MCKENZIE-ØVELSER
Som udgangspunkt vil man undersøge om patientens smerter kan lindres og fjernes med de såkaldte McKenzie behandlingsprincipper. McKenzie-principperne består ganske enkelt af nogle bestemte øvelser, som sætter patienten selv i stand til at lindre og fjerne smerterne.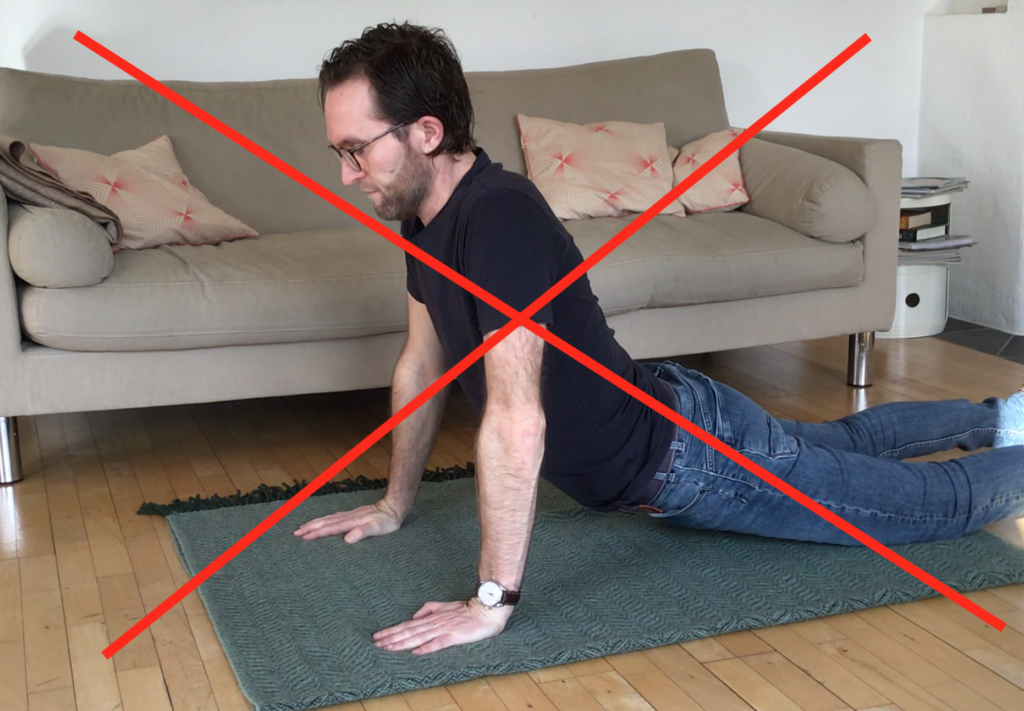 Den version af McKenzie-øvelser, hvor ryggen bøjes bagover, er dog ikke velegnet til at fjerne smerterne med, fordi de klemmer sammen om diskusprolapsen. I stedet bruger jeg nogle andre smertelindrende øvelser.
Den gruppe af patienter som kan behandles efter disse pricipper, vil hurtigt få magt over deres smerter, og vil indenfor relativt kort tid blive fri for eventuelt smertestillende medicin, sygemelding o.s.v. Rent psykologisk er der også store gevinster ved selv at kunne fjerne smerter, ved hjælp af simple øvelser.
FÅ DE RIGTIGE ØVELSER
Få de øvelser der fjerner smerter fra en diskusprolaps. Programmet består af enkle og effektive smertelindrende øvelser, som du kan udføre i dit hjem. Video-instruktion online, så du kan træne og få det godt igen. Start behandlingen lige når det passer dig.
GENOPTRÆNING
Udover at lindre smertere tilrettelægges fysioterapeutens behandlingsplan med henblik på, at støtte den naturlig vævsheling og at forebygge unødvendigt funktionstab. Med andre ord gælder det om at aktivere patienten mest muligt, under hensynstagen til smerterne.
Fysisk aktivitet har den egenskab at blodcirkulationen og helingsprocesserne i ryggen understøttes. Idag findes der særlige principper for gradvis og sikker optrapning af aktivitetsniveau, så patienten ikke undgår mere end det er nødvendigt. For de fleste mennesker med diskusprolaps, er det begrænsningerne i evnen til at udføre dagligdagens aktiviteter, fritidsinteresser, arbejde o.s.v. som volder flest bekymringer. Derfor vil det være meget vigtigt at patienten får råd og vejledning, med konkrete retningslinier for hvornår de kan genoptage de forskellige dagligdags aktiviteter, som smerterne har begrænset dem i.
Som regel er der en periode hvor patienten med diskusprolaps, må skånes for visse dagligdags aktiviteter. I den periode kan det være hensigtsmæssigt at patienten træner og holder sin krops så stærk og smidig som muligt. Som nævnt i et tidligere afsnit, vil den fysiske aktivitet stimulere kroppens naturlige helingsprocesser. Fysioterapeuten vil tilrettelægge øvelser og træning efter hvor langt i helingsprocessen patienten er kommet. Formålet er at komme til at fungere normalt så hurtigt det lader sig gøre, samt at sikre at kroppens heling forløber så optimalt som muligt.
MEDICINSK BEHANDLING
Smertestillende medicin er vigtig for at lindre smerterne, for at opnå en god nattesøvn og for ikke at være mere funktionsbegrænset end der er grund til. Flere patienter afviser smertestillende medicin med den begrundelse, at de er bange for at komme til at gøre skade på sig selv, uden at kunne mærke det. Det er ikke erfaringen at smertestillende medicin har så god en virkning at dette lader sig gøre, end ikke hos patienter, som har været medicineret med morfinpræparater. I tæt samråd med egen læge, kan det være formålstjenligt at medicinere med et eller flere. En opdateret fysioterapeut kan vejlede i anvendelsen af medicin, i samråd med egen læge. Som regel anvender man Paracetamol (Panodil), anti-inflammatorisk medicin (NSAID, Ibumetin, Ibuprofen). I visse tilfælde må man supplere med andre typer af medicin (Saroten, Gabapentin, Lyrica), for at reducere smerterne fra den irriterede nerve.
OPERATION
Det er sjældent nødvendigt at operere patienter med diskusprolaps, for at de kan få det godt. Ved meget smertefulde eller funktionsbegrænsende tilstande, kan man overveje at operere for at afkorte helingsforløbet. Man vil altid bede en kirurg vurdere en patient med diskusprolaps, hvis der er er påvirkning af patientens vandladningsfunktion eller mangel på kontrol over tarmens lukkemuskler. Ligeledes kan man overveje at lade en kirurg vurdere patienten, hvis patienten er interesseret i at blive opereret efter at have forsøgt behandling med træning, øvelser og medicin over flere måneder, uden at der har været tilfredsstillende virkning. De seneste års forskning har vist at kirurgi kan medføre hurtigere reduktion af smerterne på kort sigt, men efter 1-2 år er der ikke forskel på hvor godt patienterne har det, uanset om de er blevet opererede eller om de er behandlet med øvelser, træning og medicin.
KILDER
1.Adams, M.A. and P.J. Roughley, What is intervertebral disc degeneration, and what causes it? Spine, 2006. 31(18): p. 2151-61.
2.Peng, B., et al., Expression and role of connective tissue growth factor in painful disc fibrosis and degeneration. Spine, 2009. 34(5): p. E178-82.
3.Gruber, H.E. and E.N. Hanlet, Ultrastructure of the human intervertebral disc during aging & degeneration. Spine, 2002. 27(8): p. 798-805.
4.Vernon-Roberts, B., R.J. Moore, and R.D. Fraser, The Natural History of Age-related Disc-Degeneration. Spine, 2007. 32(25): p. 2797-2804.
5.Buckwalter, J.A., Do intervertebral discs deserve their bad reputation? Iowa Orthopaedic Journal, 1998. 18: p. 1-11.
6.Boos, N., et al., Classification of age-related changes in lumbar spine intervertebral discs. Spine, 2002. 27(23): p. 2631-2644.
7.Bogduk, N., On the definitions and physiology of back pain, referred pain, and radicular pain. Pain, 2009. 147(1-3): p. 17-9.
8.Schafer, A., T. Hall, and K. Briffa, Classification of low back-related leg pain-A proposed patho-mechanism-based approach. Man Ther, 2008.
9.Pødenphant, J., et al., Rheumatologi. Vol. 2. 2006, København: FADL's Forlag A/S. 531.
10.Kuslich, S.D., C.L. Ulstrom, and C.J. Michael, The tissue origin of low back pain and sciatica: A report of pain response to tissue stimulation during operations on the lumbar spine using local anasthesia. Ortohopaedic Clinics of North America, 1991. 22(2): p. 181-187.
11.Cavanaugh, J.M., Neural mechanisms of lumbar pain. Spine, 1995. 20(16): p. 1804-1809.
12.Chen, C., et al., Effects of nucleus pulposus on nerve root neural activity, mechanosensitivity, axonal morphology, and sodium channel expression. Spine, 2004. 29(1): p. 17-25.
13.Freemont, A.J., et al., Current understanding of cellular and molecular events in intervertebral disc degeneration: implications for therapy. Journal of Pathology, 2002. 196: p. 374-379.
14.Takahashi, K., Y. Aoki, and S. Ohtori, Resolving discogenic pain. Eur Spine J, 2008.
15.Rasmussen, C., et al., Rates of lumbar disc surgery before and after implementation of multidisciplinary nonsurgical spine clinics. Spine, 2005. 30(21): p. 2469-73.
16.Sundhedsstyrelsen, Ondt i ryggen: Forekomst, behandling og forebyggelse i et MTV-perspektiv, in Medicinsk Teknologivurdering Serie B 1999;1(1). 1999, Statens Intitut for Medicinsk Teknologivurdering. p. 120.
17.Powell, M.C., et al., Prevalence of lumbar disc degeneration observed by magnetic resonance in symptomless women. Lancet, 1986. 2(8520): p. 1366-7.
18.Kjaer, P., et al., An Epidemiologic study of MRI and Low Back Pain in 13-Year-Old Children. Spine, 2005. 30(7): p. 789-806.
19.Kalichman, L., et al., Facet joint osteoarthritis and low back pain in the community-based population. Spine, 2008. 33(23): p. 2560-5.
20.Boden, S.D., et al., Abnormal magnetic-resonance scans of the lumbar spine in asymptomatic subjects. A prospective investigation. J Bone Joint Surg Am, 1990. 72(3): p. 403-8.
21.Carragee, E., et al., Are first-time episodes of serious LBP associated with new MRI findings? Spine J, 2006. 6(6): p. 624-35.
22.Simonic, D.I., P.A. Robertson, and N.D. Broom, Mechanically Induced Disruption of the Healthy Bovine Intervertebral Disc. Spine, 2004. 29(9): p. 972-978.
23.Veres, S.P., P.A. Robertson, and N.D. Broom, The morphology of acute disc herniation: a clinically relevant model defining the role of flexion. Spine (Phila Pa 1976), 2009. 34(21): p. 2288-96.
24.Alexander, L.A., et al., The response of the nucleus pulposus of the lumbar intervertebral discs to functionally loaded positions. Spine, 2007. 32(14): p. 1508-12.
25.Sato, K., S. Kikuchi, and T. Yonezawa, In vivo intradiscal pressure measurement in healthy individuals and in patients with ongoing back problems. Spine, 1999. 24(23): p. 2468-74.
26.Zhang, Y.G., et al., Risk factors for lumbar intervertebral disc herniation in Chinese population: a case-control study. Spine (Phila Pa 1976), 2009. 34(25): p. E918-22.
27.Tampier, C., et al., Progressive Disc Herniation. Spine, 2007. 32(25): p. 2869-2874.
28.Atlas, S.J., et al., Long-Term Outcomes of Surgical and Nonsurgical Management of Sciatica Secondary to a Lumbar Disc Herniation: 10 Year Results from the Maine Lumbar Spine Study. Spine, 2005. 30(8): p. 927-935.
29.Komori, H., et al., The natural history of herniated nucleus pulposus with radiculopathy. Spine (Phila Pa 1976), 1996. 21(2): p. 225-9.
30.Birbilis, T.A., G.K. Matis, and E.N. Theodoropoulou, Spontaneous regression of a lumbar disc herniation: case report. Med Sci Monit, 2007. 13(10): p. CS121-3.
31.Sakai, T., et al., Spontaneous resorption in recurrent intradural lumbar disc herniation. Case report. J Neurosurg Spine, 2007. 6(6): p. 574-8.
32.Pearson, A.M., et al., SPORT lumbar intervertebral disk herniation and back pain: does treatment, location, or morphology matter? Spine, 2008. 33(4): p. 428-35.
33.Rasmussen, C. and V.K. Hansen, Evaluering af de reumatologiske rygambulatorier i Nordjyllands Amt. Med fokus på behandlingen af diskusprolaps. 2004, Center for Evaluering og Medicinsk Teknologivurdering: København. p. 1-93.
34.Jensen, T.S., et al., Natural course of disc morphology in patients with sciatica: an MRI study using a standardized qualitative classification system. Spine (Phila Pa 1976), 2006. 31(14): p. 1605-12; discussion 1613.
35.DSAM, Diagnostik og behandling af lændesmerter i almen praksis. 2006: Dansk Selskab for Almen Medicin.
36.Evans, P., The healing process at cellular level: a review. Physiotherapy, 1980. 66(8): p. 256-9.
37.Lotz, J.C., et al., Anulus fibrosus tension inhibits degenerative structural changes in lamellar collagen. Eur Spine J, 2008. 17(9): p. 1149-59.
38.Greenhalgh, S. and J. Selfe, Red Flags: A guide to Identifying Serious Pathology of the Spine. 2006: Elsevier Ltd. 214.
39.Lurie, J.D., What diagnostic tests are useful for low back pain? Best Pract Res Clin Rheumatol, 2005. 19(4): p. 557-75.
40.Rudalweit, M., Differentiating inflammatory from mechanical back pain. Medical Options: p. 3-7.
41.Gardner, A., E. Gardner, and T. Morley, Cauda equina syndrome: a review of the current clinical and medico-legal position. Eur Spine J, 2010.
42.Suri, P., et al., The accuracy of the physical examination for the diagnosis of midlumbar and low lumbar nerve root impingement. Spine (Phila Pa 1976), 2010. 36(1): p. 63-73.
43.van der Windt, D., et al., Physical examination for lumbar radiculopathy due to disc herniation in patients with low-back pain. Cochrane Database of Systematic Reviews, 2010. 2.
44.Westergaard, L., J. Hauerberg, and J.B. Springborg, Outcome after surgical treatment for lumbar spinal stenosis: the lumbar extension test is not a predictive factor. Spine (Phila Pa 1976), 2009. 34(25): p. E930-5.
45.Rubinstein, S.M., et al., A systematic review of the diagnostic accuracy of provocative tests of the neck for diagnosing cervical radiculopathy. Eur Spine J, 2007. 16(3): p. 307-19.
46.Loong, T.W., Understanding sensitivity and specificity with the right side of the brain. Bmj, 2003. 327(7417): p. 716-9.
47.Clare, H.A., R. Adams, and C.G. Maher, Reliability of McKenzie classification of patients with cervical or lumbar pain. J Manipulative Physiol Ther, 2005. 28(2): p. 122-7.
48.Hancock, M.J., et al., Systematic review of tests to identify the disc, SIJ or facet joint as the source of low back pain. Eur Spine J, 2007. 16(10): p. 1539-50.
49.Donelson, R., et al., A prospective study of centralisation of lumbar referred pain: a predictor of symptomatic discs and annular competence. Spine, 1997. 22(10): p. 1115-1122.
50.Donelson, R., G. Silva, and K. Murphy, Centralisation Phenomenon: Its usefulness in evaluating and treating referred pain. Spine, 1990. 15(3): p. 211-213.
51.McKenzie, R. and S. May, The Lumbar Spine: Mechanical Diagnosis & Therapy, Vol. One. Vol. Two. 2003, Waikanae: Spinal Publications New Zealand Ltd. 357.
52.Kilpikoski, S., et al., Inter-examiner reliability of low back pain assessment using the McKenzie method. Spine, 2002. 27(8): p. 207-214.
53.Razmjou, H., J.F. Kramer, and R. Yamada, Intertester reliability of the McKenzie evaluation in assessing patients with mechanical low back pain. Journal of Orthopaedics and Sports Physical Therapy, 2000. 30(7): p. 368-389.
54.Kopp, J.R., et al., The use of lumbar extension in the evaluation and treatment of patients with acute herniated nucleus pulposus. Clinical orthopaedics, 1986. 202: p. 211-218.
55.Petersen, T., et al., Diagnostic classification of non-specific low back pain. A new system integrating patho-anatomic and clinical categories. Physiotherapy Theory and Practice, 2003. 19: p. 213-237.
56.Wetzel, F.T. and R. Donelson, The role of repeated end-range/pain response assessment in the management of symptomatic lumbar discs. Spine J, 2003. 3(2): p. 146-54.
57.Key, J.A. and L.T. Ford, Experimental intervertebral-disc lesions. J Bone Joint Surg Am, 1948. 30A(3): p. 621-30.
58.O'Connell, J.E., Protrusions of the lumbar intervertebral discs, a clinical review based on five hundred cases treated by excision of the protrusion. J Bone Joint Surg Br, 1951. 33-B(1): p. 8-30.
59.Bendix, T., P. Kjaer, and L. Korsholm, Burned-out discs stop hurting: fact or fiction? Spine, 2008. 33(25): p. E962-7.
60.Porter, R.W. and D. Ward, Cauda equina dysfunction. The significance of two level pathology. Spine, 1992. 17(1): p. 9-15.
61.Libson, E., R.A. Bloom, and G. Dinari, Symptomatic and asymptomatic spondylolysis and spondylolisthesis in young adults. Int Orthop, 1982. 6(4): p. 259-61.
62.Fritz, J.M., R.E. Erhard, and M. Vignovic, A nonsurgical treatment approach for patients with lumbar spinal stenosis. Physical Therapy, 1997. 77(9): p. 962-973.
63.Madsen, R., et al., The effect of body position and axial load on spinal canal morphology: an MRI study of central spinal stenosis. Spine, 2008. 33(1): p. 61-7.
64.Amundsen, T., et al., Lumbar spinal stenosis. Clinical and radiological features. Spine, 1995. 20(10): p. 1178-1186.
65.Oliver, D., Spinal Pain in the Elderly – A Multicenter Observational Study, in 11th International Conference in Mechanical Diagnosis and Therapy. 2009: Rio de Janeiro, Brazil
66.Lengsoe, L., et al., An algorithm for clinical identification of spinal stenosis – a pilot study of validity and intertester reliability. International Journal of Mechanical Diagnosis & Therapy, 2009. 4(2): p. 21-28.
67.Fritz, J.M., et al., Lumbar spinal stenosis: A review of current concepts in evaluation, management and outcome measurements. Arch Phys Med Rehabil, 1998. 79: p. 700-708.
68.Goh, K.J., et al., The clinical syndrome associated with lumbar spinal stenosis. Eur Neurol, 2004. 52(4): p. 242-249.
69.Jackson, D.A., The history of and clinical findings in lumbar spinal stenosis: a brief review. Phys Ther Rev, 1998. 3: p. 163-167.
70.de Graaf, I., et al., Diagnosis of lumbar spinal stenosis: a systematic review of the accuracy of diagnostic tests. Spine, 2006. 31(10): p. 1168-76.
71.Grosser, V., et al., [Significance of isthmic spondylolisthesis in expert assessment of occupational disease of the lumbar spine]. Unfallchirurg, 1996. 99(7): p. 470-6.
72.Albert, H.B. and C. Manniche, The efficacy of systematic active conservative treatment for patients with severe sciatica: a single-blind, randomized, clinical, controlled trial. Spine (Phila Pa 1976), 2012. 37(7): p. 531-42.
73.Long, A., R. Donelson, and T. Fung, Does it Matter Which Exercise? A Randomized Control Trial of Exercise for Low Back Pain. Spine, 2004. 29(23): p. 2593-2602.
74.Holm, S. and A. Nachemson, Variations in the Nutrition of the Canine Intervertebral Disc Induced by Motion. Spine, 1983. 8(8): p. 866-874.
75.Pincus, T., et al., A systematic review of psychological factors as predictors of chronicity/disability in prospective cohorts of low back pain. Spine, 2002. 27(5): p. E109-20.
76.Hildebrandt, European Guidelines for management of chronic non-specific low back pain. 2004.
77.Waddell, G. and K. Burton, Concepts of rehabilitation for the management of low back pain. Best Practise & Research Clinical Rheumatology, 2005. 19(4): p. 655-670.
78.Gifford, L., Topical Issues in Pain 5, ed. L. Gifford. 2006, Kestrel, Swampool, Falmouth, Cornwall TR11 5BD, UK: CNS Press Ltd. 430.
79.Apeldoorn, A.T., et al., The reliability of nonorganic sign-testing and the waddell score in patients with chronic low back pain. Spine, 2008. 33(7): p. 821-6.
80.Centeno, C.J., W.L. Elkins, and M. Freeman, Waddell's signs revisited? Spine, 2004. 29(13): p. 1392; discussion 1393.
81.Waddell, G., Nonorganic signs. Spine, 2004. 29(13): p. 1393.
82.Waddell, G., et al., A Fear-Avoidance Beliefs Questionnaire (FABQ) and the role of fear-avoidance beliefs in chronic low back pain and disability. Pain, 1993. 52(2): p. 157-68.
83.Waddell, G., et al., Nonorganic physical signs in low-back pain. Spine, 1980. 5(2): p. 117-25.
84.Cleland, J.A., J.M. Fritz, and G.P. Brennan, Predictive validity of initial fear avoidance beliefs in patients with low back pain receiving physical therapy: is the FABQ a useful screening tool for identifying patients at risk for a poor recovery? Eur Spine J, 2008. 17(1): p. 70-9.
85.Linton, S.J. and M.W. van Tulder, Preventive interventions for back and neck pain problems: what is the evidence? Spine, 2001. 26(7): p. 778-87.
86.Woods, M.P. and G.J. Asmundson, Evaluating the efficacy of graded in vivo exposure for the treatment of fear in patients with chronic back pain: a randomized controlled clinical trial. Pain, 2008. 136(3): p. 271-80.
87.de Jong, J.R., et al., Fear of movement/(Re)injury in Chronic Low Back Pain: Education or Exposure In Vivo Mediator to Fear Reduction? Clinical Journal of Pain, 2005. 21(1): p. 9-17.
88.Aina, A., S. May, and H. Clare, The centralization phenomenon of spinal symptoms – a systematic review. Manual Therapy, 2004. 9: p. 134-143.
89.Albert, H.B., E. Hauge, and C. Manniche, Centralization in patients with sciatica: are pain responses to repeated movement and positioning associated with outcome or types of disc lesions? Eur Spine J, 2011.
90.Berthelot, J.M., et al., Contribution of centralization phenomenon to the diagnosis, prognosis, and treatment of diskogenic low back pain. Joint Bone Spine, 2007. 74(4): p. 319-23.
91.Browder, D.A., et al., Effectiveness of an extension-oriented treatment approach in a subgroup of subjects with low back pain: a randomized clinical trial. Phys Ther, 2007. 87(12): p. 1608-18; discussion 1577-9.
92.Christiansen, D., et al., Pain responses in repeated end-range spinal movements and psychological factors in sick-listed patients with low back pain: is there an association? J Rehabil Med, 2009. 41(7): p. 545-9.
93.Pople, I.K. and H.B. Griffith, Prediction of an extruded fragment in lumbar disc patients from clinical presentations. Spine (Phila Pa 1976), 1994. 19(2): p. 156-8.
94.Vucetic, N., H. Maatanen, and O. Svensson, Pain & pathology in lumbar discs hernia. Clinical orthopaedics & related research, 1995. 320: p. 65-72.
95.Macedo, L.G., et al., Graded activity and graded exposure for persistent nonspecific low back pain: a systematic review. Phys Ther, 2010. 90(6): p. 860-79.
96.Butler, D. and L. Moseley, Explain Pain. 3 ed. 2007, Adelaide, Australia: Noigroup Publications. 129.
97.Moffett , J.A., J. Carr, and E. Howarth, High Fear-Avoiders of Physical Activity benefit From an Exercise Program for Patients With Back Pain. Spine, 2004. 29(11): p. 1167-1173.
98.Roelofs, P.D., et al., Nonsteroidal anti-inflammatory drugs for low back pain: an updated cochrane review. Spine, 2008. 33(16): p. 1766-74.
99.Chou, R., et al., Interventional therapies, surgery, and interdisciplinary rehabilitation for low back pain: an evidence-based clinical practice guideline from the American Pain Society. Spine (Phila Pa 1976), 2009. 34(10): p. 1066-77.
100.Jacobs, W.C., et al., Surgery versus conservative management of sciatica due to a lumbar herniated disc: a systematic review. Eur Spine J, 2011. 20(4): p. 513-22.
101.Young, S., C. Aprill, and M. Laslett, Correlation of clinical examination characteristics with three sources of chronic low back pain. Spine J, 2003. 3(6): p. 460-5.
102.Culav, E.M., C.H. Clark, and M.J. Merrilees, Connective tissues: Matrix composition and its relevance to physical therapy. Physical Therapy, 1999. 79(3): p. 308-319.